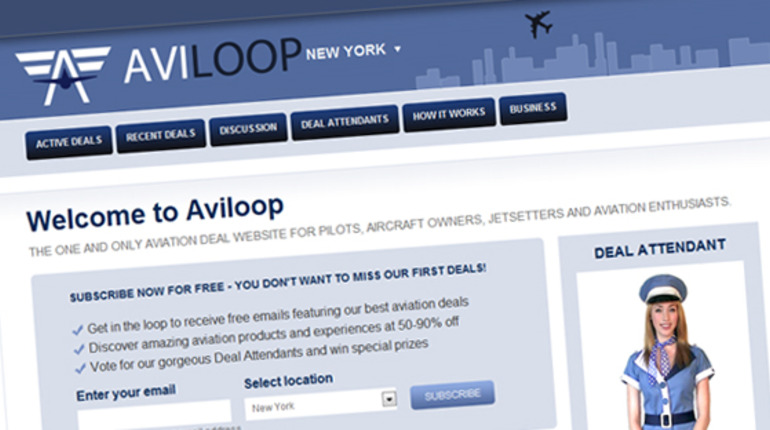 Do you have a dream of flying? It is time to turn your dream into reality. Just go to Aviloop.com, the ONE and ONLY aviation deal website for pilots, aircraft owners, jetsetters and aviation enthusiasts that we have recently launched.
At Verecom, our development team worked closely with the founder of Aviloop LLC, Nadia Marcinko, to achieve objectives and key results of the website. We have been spending time reviewing daily deal websites and provided a site specifically designed for her aviation concepts and deals.
Our Daily Deal Website Design Highlights
Multiple City / Location Deals;
Daily Deal Management, including Featured / Active Deals, Side Deals, Recent Deals, etc;
Business / Company Details, Google Map;
Share Deals on Social Networking Sites: Facebook, Twitter, etc;
Login & Registration;
Custom Design;
CMS Enabled to manage page content;
One Click Shopping and Order Tracking;
Multiple Payment Gateways;
PCA and SSL Enabled;
more...
Project Information
Client
With a concern for pilot related accidents in general aviation* due to cutting corners, the founder of Aviloop LLC came to us and sought a daily deal website designed to bring pilots, aircraft owners, jet-setters and aviation enthusiasts incredible deals and get them connected.
* According to the 2010 Nall report, the cause in 70% of non-commercial general aviation accidents was pilot related.
Website URL: www.aviloop.com
Daily Deal Website Design

Technologies / Services We Provided: Web Design, CMS, MySQL, PHP, HTML/CSS, E-Commerce Shopping Cart, Credit Card Processing
Testimonial
Web Development Portfolio
Please continue browsing our web design & development portfolio to view professional designs for company websites, web applications and e-commerce solutions. The clientèle we serve are located throughout the world and whose size range from small businesses to mid- and large-size companies. They all benefit from the experience of over ten years designing and implementing creative ideas for a diverse resume of business models.