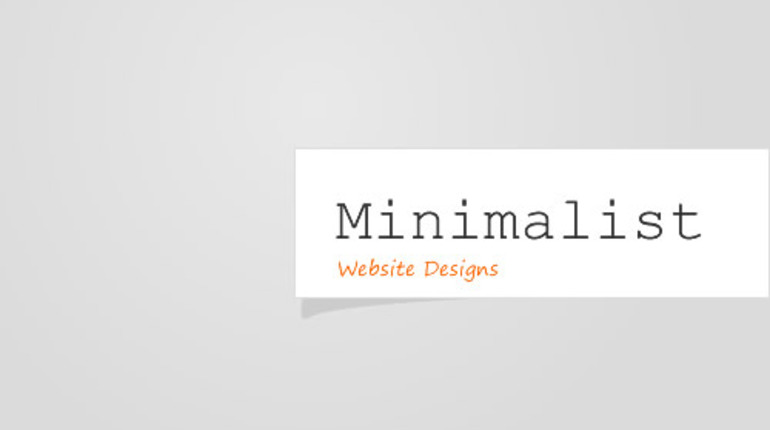 While some people seem to prefer graphics and text loaded sites, it is actually websites with minimalistic design that hit the right chord with users. And this is especially true for ecommerce development sites that sell products to customers.
Websites often choose to have a design that is heavy in text and graphics. However, it does not really look good that often. In fact, what it does is confuse the visitors who prefer to visit a different site instead of wasting time in a website that they cannot understand. So, it is better to design a site that is simple in its design and is easily figured out by its users. And this is especially true for ecommerce development websites where people come to browse and buy things.
The main aim of a website is to provide information, and that is best provided through a simple design. But, as they say, it is difficult to be simple; web designers too often find it difficult to make a simple looking website. They feel that it is difficult to make a page that has very few elements and yet look good and complete.
Before we get into minimalist design ideas, let's have a look at what minimalistic design actually is. Well, the term means a basic design that is devoid of superfluous use of colors, elements, textures and shapes.
The basic purpose of such designs is to turn the focus on the content of the website. A plain and simple layout gives a clean and light feel to its visitors.
Here are some basic principles of minimalistic design that can help you make a site that looks simple yet effective:
White space
Instead of creating a jumbled up and complicated site, it is better to leave negative spaces in the layout. This not only has a calming effect on the mind of the user but is also easy to read and draws focus to the content which is basically why a site is used.
Simple text navigations
This is very effective as it does not have images or stuff like that but only texts in the navigation bars which again make it easier for users to use a site, especially if it is an ecommerce development website.
Gray color scheme
Minimalistic designs often have the color grey in it. The color proves to be effective when used as a background to texts, images and other facets of a layout. Grey involves the use of only few colors as most do not go with it, thereby giving you more whitespaces and thus, a simple looking site. However, the color grey must not be mistaken for a dull color as interesting looking websites can be created by shades and contrasts of the color.
Minimal use of colors
It is a myth that too many colors make a site look good. Great looking websites can be made using black and white or just grey. It is actually the layout that makes a site boring or interesting. However, colors can be used to highlight headers, navigations etc. to draw attention to them.
An interesting typography
If typography is used creatively, you can surely have a uniquely designed website. There are several types of fonts available and you can also create one for yourself. However, too many fonts should not be used; instead, use two or a maximum of three.
With these ideas, you can surely get a simple yet interesting ecommerce development website or any other site for that matter.